In today's age of Do-It-Yourself (DYI) tutorials and YouTube videos, it's tempting to tackle home improvement projects on your own. The allure of saving money and the satisfaction of conquering a task can be incredibly tempting – and a task like painting kitchen cabinets might not seem like a big deal.
However, if you want to achieve a quality, finished look you'd be proud to show off, hiring a professional is one of the smartest choices you can make when it comes to your cabinets.
The Benefits of Professional Cabinet Painting
Seasoned cabinet painters with years of experience have seen it all – the good, the bad and the downright ugly DIY attempts.
It's best to avoid the bad and the ugly and instead enjoy the myriad of benefits of hiring experts to paint your cabinets.
Color Choices with a Professional Finish
If you've ever gone to the paint store and felt overwhelmed by all of the color choices, fear not. Pros can help you choose the best cabinet paint with the right colors and finish to perfectly match your home's style.
In addition to being color experts, professional painters have honed their craft through countless projects. They know how to properly prep surfaces, choose the right materials and apply the perfect finish. The result? Cabinets that look as if they were purchased straight from a high-end showroom.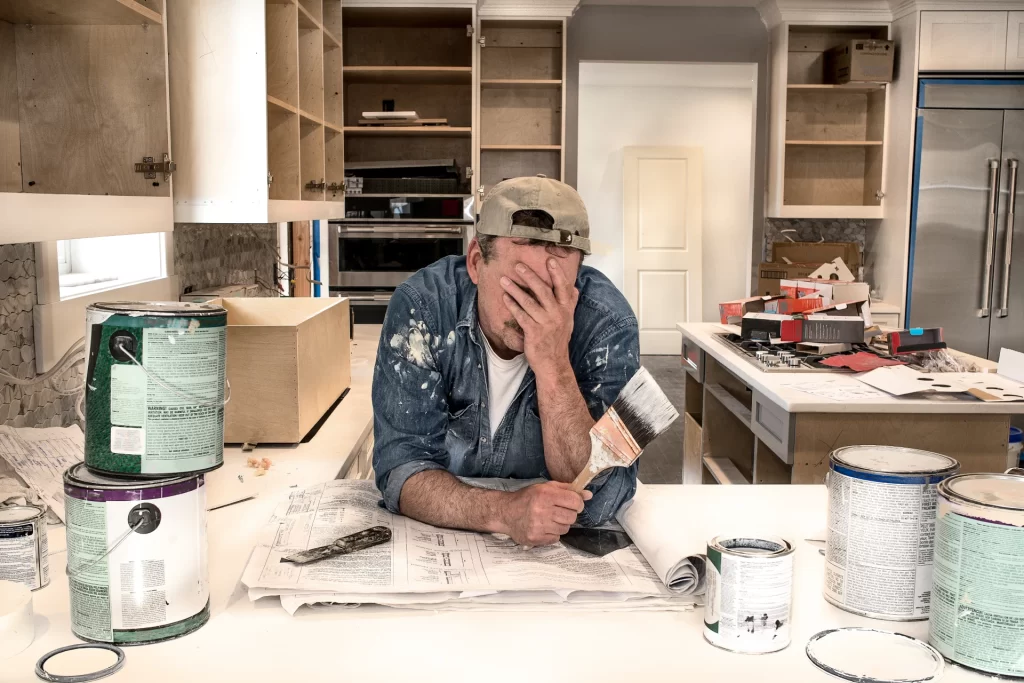 Time and Efficiency
DIY cabinet painting can be an extremely time-consuming endeavor. On your own, the whole process can take weeks, if not longer. When you hire professional cabinet painters, however, you can expect a quick and efficient process that usually takes 3 to 5 days. This means your kitchen (and your life) can return to normal much quicker than if you tackled the project yourself.
Quality Materials
Professionals have access to high-quality materials and tools that aren't readily available to the average homeowner. This ensures a longer-lasting, more durable finish that can withstand the daily wear and tear your cabinets endure. Likewise, professional painters use products with bulletproof manufacturer warranties in case the paint itself isn't up to par.
Experience & Expertise
Experience matters, and it's something that can't be gained overnight. Professionals have encountered and solved numerous painting challenges. From repairing damaged cabinets to selecting the right paint for the job to focusing on intricate details, the pros know how to handle it all. What's more, the best cabinet painters pride themselves on their quality of work and stand by the finished product.
What Will Cabinet Painting Cost?
The cost of hiring professionals to paint your cabinets is a critical consideration for many homeowners. However, when you consider the long-term benefits and the quality of the work, it is often an easy choice.
The exact cost will vary depending on factors like kitchen size, the number of cabinets, their condition and the quality of materials you choose.
According to HomeAdvisor, the typical range for kitchen cabinet painting costs is $422 to $1,417, with a national average of $899. Other significant factors figuring in the cost to paint kitchen cabinets are the paint type and color, painting method, cabinet design and labor. Homeowners living in areas with a high cost of living can expect to pay up to $7,000.
In comparison, the cost of replacing your kitchen cabinets can easily run two to three times that amount depending on job size and customization. It's also important to remember that you're not just paying for paint and labor. You're paying for expertise, quality and a result that will stand the test of time.
If you were to go the DIY route, the initial savings might seem appealing, but the potential for costly mistakes and the time you'll spend on the project shouldn't be underestimated. And while it may seem like a hefty upfront investment, hiring professionals to paint your cabinets often results in a superior, longer-lasting finish (not to mention the money you'll save by avoiding costly DIY mistakes).
The Painting Process
So, what does a professional cabinet painting process look like?
Most professional companies follow systems that allow them to be productive and efficient, delivering great results in the least amount of time.
Inspection & Assessment
The process begins with a thorough inspection of your cabinets. Professionals will identify any repairs or preparatory work that needs to be done, from fixing minor dents and scratches to assessing the wood's overall condition.
Preparation
Preparation is often the most time-consuming part of the job. It involves removing cabinet doors and hardware, plus thorough cleaning, sanding and priming. All of this is done meticulously to ensure a smooth canvas for the paint.
Color Selection
Professionals can help you select the perfect color and finish for your cabinets, considering your kitchen's style and your personal preferences.
Painting
The actual painting process involves careful application of paint, typically in multiple coats, allowing for drying time in between. This stage is where the true skill of a professional shines through, as achieving an even, smooth and blemish-free finish is an art in itself.
Re-Assembly & Clean-Up
Once the paint has dried, your cabinets are reassembled and all hardware is replaced. A professional painter will ensure everything is back in place as it should be. Clean-up is also an integral part of the process – so you won't be left with a mess to deal with.
Hire a Cabinet Painter
DIY projects can be rewarding, but the benefits of hiring a professional to paint your cabinets far outweigh any potential downsides. The expertise, efficient workflow, high-quality materials and attention to detail all contribute to a result that will leave you thrilled with your kitchen's transformation.
While the initial cost would be more than if you did the work yourself, it's truly an investment in your home's value, your personal satisfaction and peace of mind. So, when it's time to give your kitchen a fresh, new look, don't hesitate to trust the professionals to do the job right.